The legendary Ford Escape originally made it's debut in time for the 2001 model year. The vehicle immediately revolutionized the segment thanks to the creative and unique design. While similar large SUVs had traditionally been built on a pickup-based body design, Ford's engineers decided to build the Escape on a sedan unibody structure (while also including an independent suspension and innovative steering mechanics).
The model immediately proved itself to be one of the most versatile vehicles in the class. The all-wheel-drive system made it an excellent choice for off-roading enthusiasts, although several other mechanical inclusions made it a perfect target for those seeking a general commuter. These attributes have been consistent in each of the Ford Escape model years since its original inception.
The brand has also done an admirable job of assuring that their customers have a wealth of engine options, and this was clearly a priority right off the bat. The original Ford Escape could be equipped with three possible engine offerings (including a 2.0-liter Zetec I4, 2.3-liter Durance 23 I4, and 3.0-liter Durance 30 V6) and a number of different transmission options, allowing drivers to "customize" their vehicle to their liking.
None of these attributes or features have disappeared, and that probably plays a significant role in the Ford Escape sustaining this success for nearly two decades.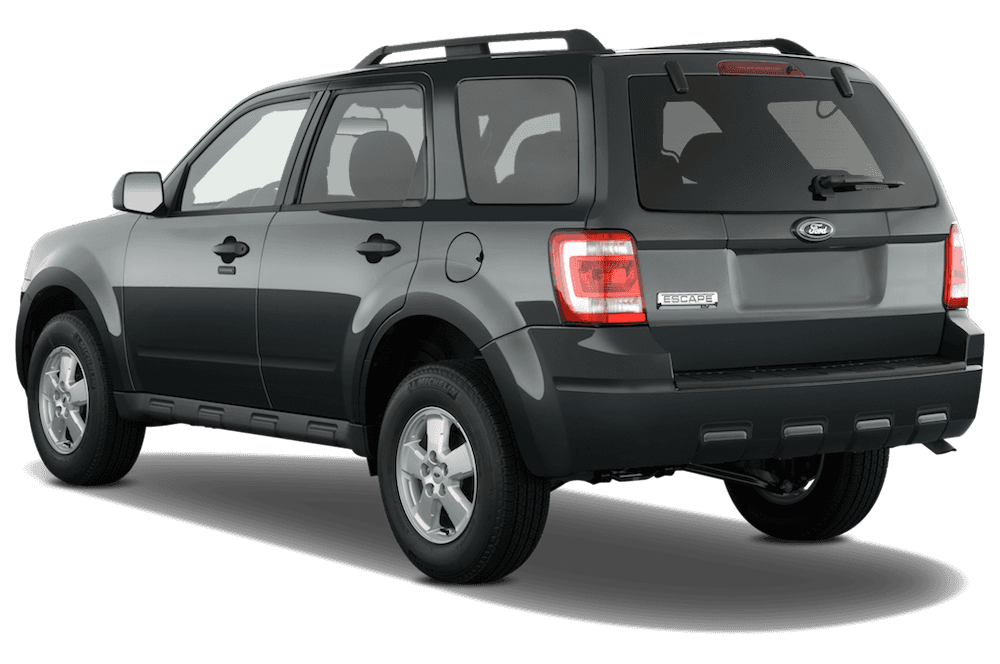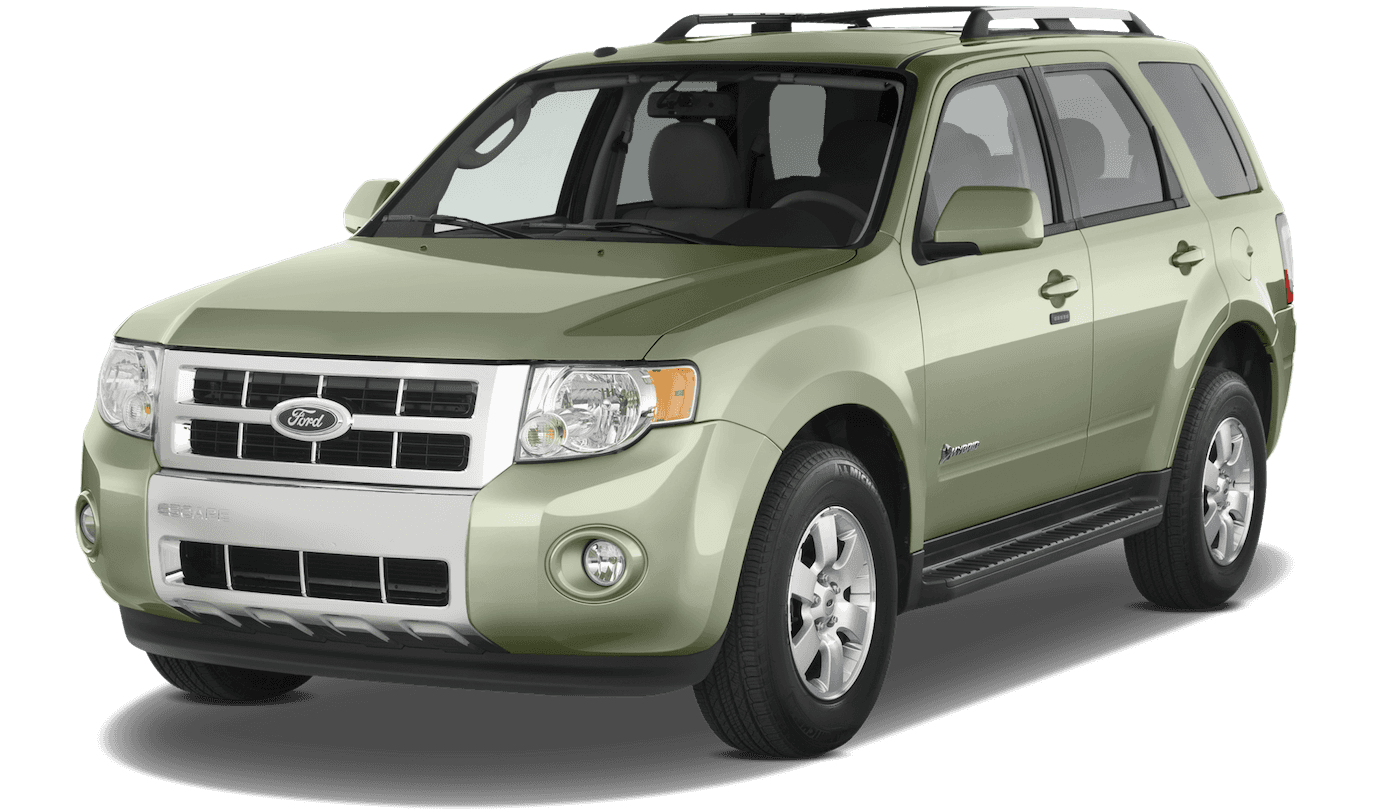 2nd Generation Ford Escape : 2008-2012
If you're seeking an inexpensive used SUV, then you'll surely have to pursue a vehicle that's a bit older. In this case, it might be in your best interest to explore everything that a used Ford Escape has to offer. If you're really looking for specifics, then it'd be a good idea to investigate everything that the second-generation of this SUV can deliver.
Fortunately, gathering this information isn't all that difficult. Once you've explored what each of the individual model years has to offer, you'll get clarity on which used Ford Escape (2nd gen) is right for you. So before you start searching around for a used Ford Escape for sale, see which of the offerings is actually the proper fit.
Years
Suggesting that those seeking a used SUV should opt for a second-generation Ford Escape is a bit of a blanket statement. After all, this phase of the model lasted for five years, providing customers with a number of different variants of this particular vehicle. Therefore, before you start shopping around for these SUVs, it's important to remember the distinct differences between each ride.
For instance, the 2008 model offers completely different engines than the 2012 version of the vehicle. Furthermore, each individual year saw improvements in safety capabilities, interior amenities, and performance. By understanding what each of these SUVs provides, customers can better zero in on their ideal Ford Escape.
Details
Besides understanding what each of the individual Ford Escape model years can provide to their customers, there are additional bits of information that can be especially helpful as you're searching for a used ride. For instance, some customers may be unaware that there was a hybrid version of the second-generation Ford Escape. For those seeking the optimal efficiency from their used SUV, then it might be worth pursuing this particular rendition of the vehicle.
Furthermore, it's important to understand that Generic Chevrolet Dealer in Cincinnati, Ohio is the perfect place to purchase that second-generation Escape. Why? Well, continue reading to find out.
Hybrid
Following the release of the second-generation Ford Escape, the brand also unveiled their new second-generation Escape Hybrid. The vehicle's engine options were incredibly efficient, and the offerings also provided a surprising amount of power. The 2.5-liter Atkinson-cycle four cylinder engine delivered plenty of power, and when teamed with the accompanying electric motor, drivers could expect a horsepower that exceeded 180. Meanwhile, the U.S. Environmental Protection Agency determined that the vehicle's fuel efficiency was around 31 miles per gallon on the highway. Thanks to a new suspension system and revamped stability control, drivers could easily expect an unmatched driving experience.
The vehicle also featured a number of amenities that were often reserved for the top-of-the-line, standard Escapes. For instance, the "base" model included a 60/40 split-fold bench seat, allowing drivers to configure their interior to fit passengers and cargo. The Sirius Satellite Radio allowed occupants to appreciate their favorite tunes, and they could ask for their preferred music via the Sync voice-control unit. The alternative "limited" edition include heated front seats, 16-inch six-spoke alloy wheels, and a six-way power driver's seat.
Unfortunately, the hybrid version of the Ford Escape didn't last all that long. The brand discontinued the vehicle in 2012, although Ford's subsequent engine offerings (which included direct-injection and turbocharged technology) did provide drivers with improved fuel efficiency.

2008 Ford Escape
To kick off the second generation of the iconic Ford Escape, engineers included a new and improved engine under the hood. The 2.3-liter four-cylinder engine was teamed up with either a five-speed manual or four-speed automatic transmission, resulting in an improved 153 horsepower. Meanwhile, the brand's 3.0-liter V6 engine (when accompanied by that four-speed automatic transmission) was capable of cranking out an impressive 200 horsepower, resulting in a towing capacity that's lingering around 3,500 pounds.
Besides altering the size of the vehicle, there were several other cosmetic revisions that the Ford Escape underwent. The interior was composed entirely of recycled materials, making Ford the first company to accomplish such a feat. Meanwhile, the SUV included a new set of wheels, and drivers could also choose from a selection of new paint options.
Perhaps the biggest inclusion was the array of safety technologies, making the Escape one of the most dependable SUVs on the road. Engineers included a number of airbags, like the front and side units for those up front and side-curtain units throughout the vehicle. The AdvanceTrac stability control system (with roll-over technology) was included, meaning drivers would consistently be in complete control of their ride. The brand also included a four-wheel anti-lock braking system (providing ideal stoppage power) and a tire pressure monitoring unit.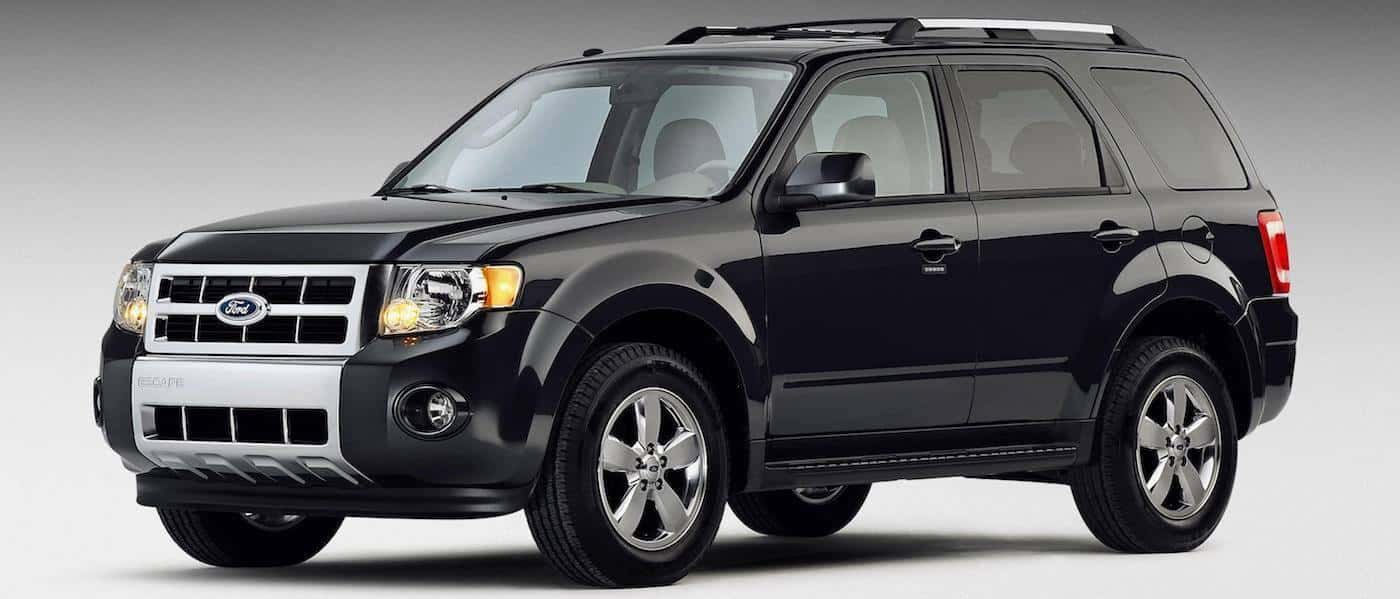 2009 Ford Escape
For the 2009 model year, Ford's engineers again revamped their engine options. The 2.3-liter engine was thrown out and replaced with a 171-horsepower, 3.0-liter V6 engine. Meanwhile, the 3.0-liter Durance 30 V6 engine saw a minor uptick in power, as the unit was now capable of producing 240 horsepower. Finally, the 2.5-liter engine was still accompanied by the five-speed manual transmission, but customers could also opt for the brand-new six-speed automatic transmission.

2010 Ford Escape
Customers had a whole lot of options when they chose the 2010 Ford Escape, as the vehicle could truly be customized to fit the buyer's desires. For instance, there were a trio of trim options (XLS, XLT, and Limited) that were accompanied by either a front or four-wheel drive system. The 171-horsepower 2.5-liter engine stuck around (with the five-speed manual transmission), as did the 2.5-liter unit that was accompanied by the six-speed automatic transmission. The 3.0-liter engine saw a bit of an improvement, as the muscular SUV saw an uptick to 240 horsepower.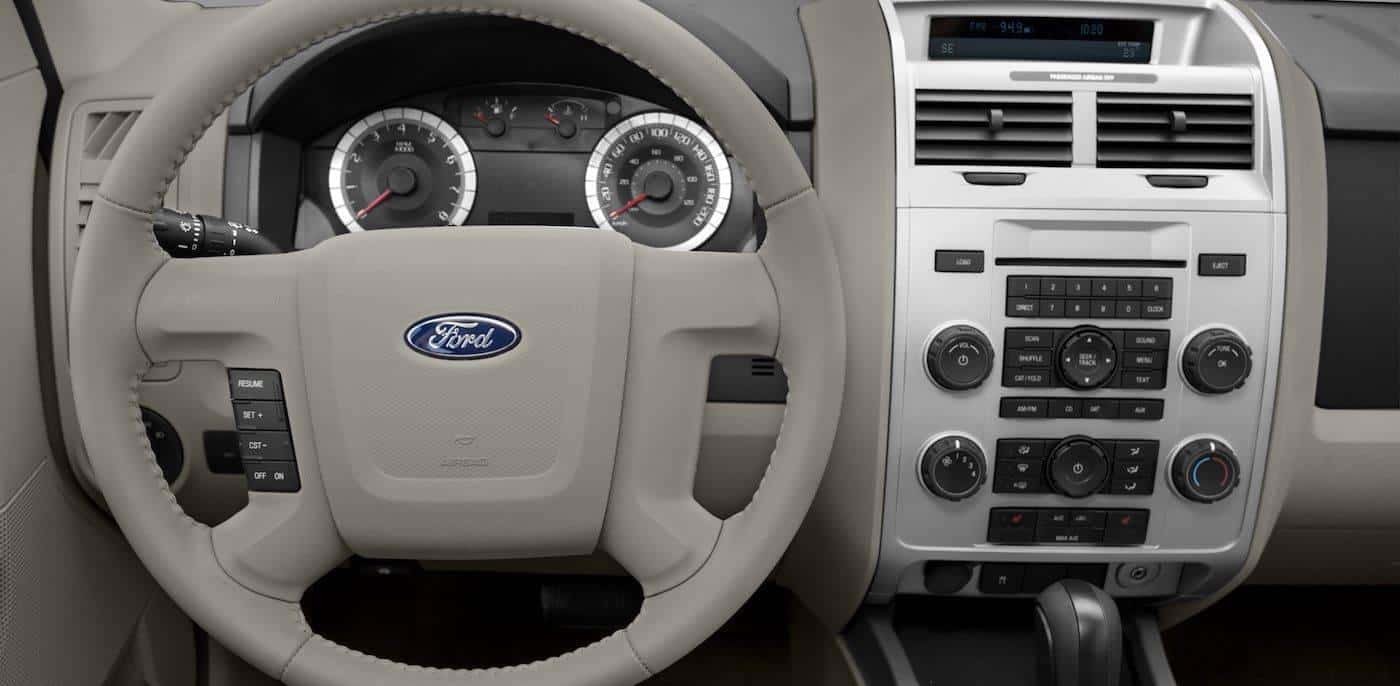 2011-2012 Ford Escape
The 2011 and 2012 version of the SUV saw few changes, but that wasn't necessarily a bad thing. After all, the Ford Escape was continually praised for everything it offered, especially the array of safety capabilities. The vehicle was equipped with a plethora of air bags, as well as safety technologies like the AdvanceTrac stability control and the tire pressure monitoring system.
While the 2011 model virtually saw no additions to the model, the 2012 version included one: an additional exterior paint job.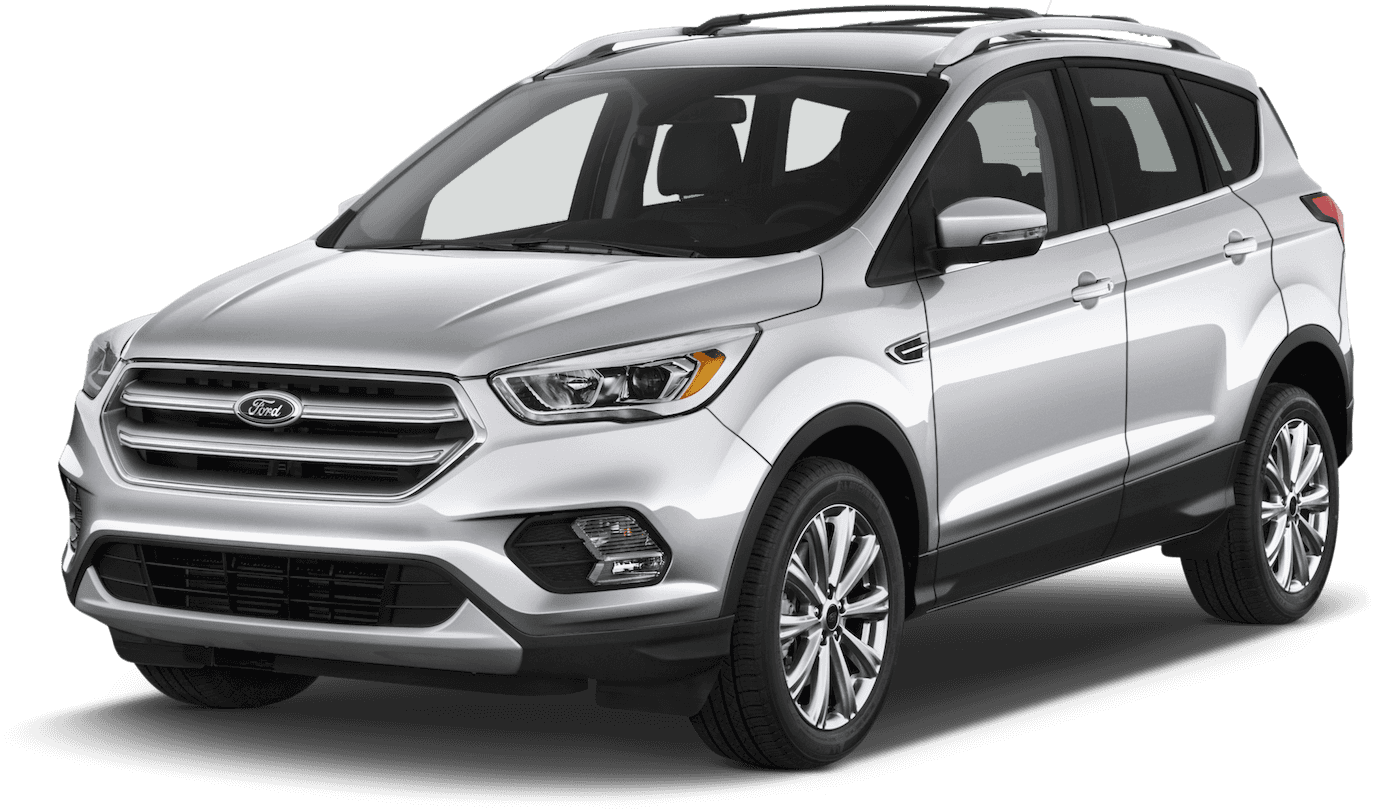 3rd Generation Ford Escape : 2013 – 2017
The current SUV offerings that are featured on dealership lots are certainly enticing. However, there's no denying that these vehicles are expensive, and they might simply be out of your budget. In this case, it might be in your best interest to pursue a used offering.
Well, in this scenario, you can't make a better choice than a third-generation 2017 Ford Escape. These SUVs are relatively new, so it's unlikely that you'll come across any mechanical problems. The Escape model also offers many of the amenities that you'd presumably be seeking, including a powerful/efficient engine, innovative technology, and a number of interior features. You'd be hard pressed to find a better driving experience from any rival used vehicles.
If you've been considering a used SUV, then start by exploring everything that the used Ford Escape (3rd gen) has to offer…
Model Years
While previous generations of the Ford Escape were respectable in their own way, the model had continually failed to establish itself on that upper-tier of SUVs. However, the model moved up in the industry following the release of the vehicle's third generation.
The exterior was completely redesigned, featuring a new athletic stature (as opposed to the previous, boxy design). A number of different engine options provided drivers with a unique combination of power and efficiency, while the innovative technology made the driving experience a lot more enjoyable.
Of course, it's better to not lump these third-generation Ford Escapes into the same group, as they all feature their own specific features and capabilities. See how the offerings differ from each other below…
Why Ford?
You may be wondering why the third-generation Ford Escape is such a desirable used SUV. Well, it's rather obvious that these particular vehicles are relatively new, so customers shouldn't expect major mechanical issues. Meanwhile, the vehicles are relatively hard to come across, so you can impress your friends when you pull up in your recently-purchased used SUV.
Reliability
There's no denying that each generation of the Ford Escape is a reasonable option for those seeking a used SUV. However, considering the recent release of the third generation, customers can expect reliability and few headaches from these specific offerings.
The oldest third-generation Ford Escape is only five years old, so there's little chance that an excessive amount of miles have compiled on the odometer. It's also unlikely that the vehicle has undergone any serious repairs, and you shouldn't assume that any major maintenance is imminent.
Of course, since you're going to be opting for a relatively "new" used SUV, you should also expect the vehicle to be accompanied by a higher price tag. These prices should still be lower than their new counterparts, however, providing a clever opportunity for those with a limited budget.

2013 Ford Escape
As you're shopping for a 2013 Ford Escape, there's a chance that you could come across a pair of engine offerings. There's the 2.5-liter four-cylinder unit that's accompanied by a six-speed automatic transmission, and experts have commended this offering for its quiet driving experience. Alternatively, there's a hulking 1.6-liter engine that comes with the SE version of the Escape, and drivers can expect 180 horsepower from this particular offering. There's even a 2.0-liter engine, but this is only available on the hard-to-find Titanium models. When all is said and done, customers can generally expect a fuel efficiency that's lingering around 31 miles per gallon on the highway.
The brand's SYNC system is the star of the interior, as the innovative (for the time) touchscreen provides easy access to a number of useful applications, including SiriusXM satellite radio. Depending on which version of the Escape you come across, you might also be able to capitalize on the heated leather seats, privacy glass, and intimidating 18-inch alloy wheels.

2014 Ford Escape
The model saw some minor changes in time for 2014. The hands-free lift gate (available with the Class II trailer tow package) was an appreciated inclusion, as it made loading a whole lot easier. A four-way manual passenger seat was added, allowing occupants to find their optimal comfort setting, while the interior was adorned in a new leather trim (on the Titanium model).
Perhaps the biggest addition was the rear view camera, which allows drivers to monitor everything that's happening behind their SUV. This is especially helpful when reversing out of a parking spot, as drivers can avoid minor fender benders.
The brand included a pair of new paint options with the 2014 Ford Escape, including Sunset Metallic and Karat Gold. Meanwhile, the Titanium model saw the addition of an "18-inch sparkle nickel painted aluminum design."

2015 Ford Escape
Ford was apparently content with their 2014 model, as the SUV underwent no notable changes for the 2015 model year. The brand did include their new Magnetic Metallic paint job, but that was the only significant addition to the vehicle.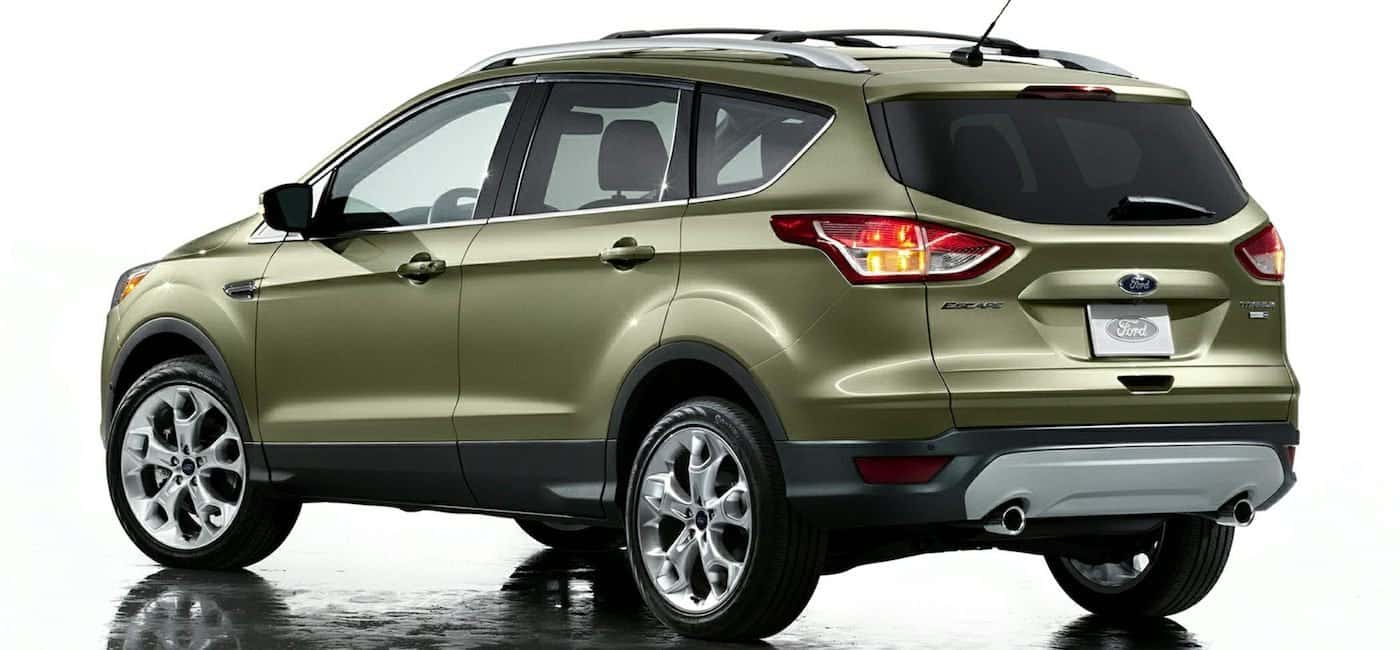 2016 Ford Escape
For the 2016 model, the vehicle's infotainment system was upgraded to the SYNC 3 technology, which includes a new intuitive touchscreen interface, as well as a host of new amenities. For instance, the brand's One Box Search option makes it incredibly easy for drivers to peruse the various applications. The brand also added a new navigation system that can zero in on specific points of interest.

2017 Ford Escape
For the first time in several years, the Ford Escape saw several revisions in time for the 2017 model. The inclusion of a two-bar hexagonal grille allows the SUV to assume a more intimidating stance, while the new taillights and tailgate leads to a sportier persona. The interior also saw several cosmetic changes, as engineers moved the shifter and parking brake in order to provide a roomier center console.
The 1.6-liter engine was kicked to the curb in favor of the 1.5-liter turbo-four engine that was previously featured in the Ford Fusion. This specific unit provides superior power specs, as drivers could capitalize on the 180 horsepower and 185 pounds-feet of torque. Meanwhile, the 2.0-liter turbocharged engine also saw some mechanical revisions, resulting in 245 horsepower and 275 pounds-feet of torque. The addition of a new rear suspension system resulted in a smoother driving experience, even with the increased power.
The technological offerings were slightly altered. Drivers surely appreciated the addition of a heated steering wheel and the useful lane-departure warning, while an accompanying smartphone application allowed drivers to remotely access several aspects of their purchase.
Why Generic Chevrolet Dealer?
While it may have taken you awhile to determine which used vehicle you should pursue, it shouldn't take very long to figure out that you should be purchasing that SUV from Generic Chevrolet Dealer. There are an assortment of reasons why drivers should visit this Cincinnati, Ohio dealership.
The dealership's convenient hours makes it incredibly easy to visit their facilities, meaning you won't have to leave work early in order to explore their inventory. Meanwhile, their knowledgeable and trustworthy service department can be relied on after you've made the purchase. Their expert technicians will handle any issue you may run into, and they'll also handle any standard maintenance.
Perhaps best of all, Generic Chevrolet Dealer's finance department makes it incredibly easy for customers to find a way to afford their targeted used vehicles. The team will work with the customer to determine a fair and reasonable payment plan, and the car buyers won't need to worry about their ability to afford those monthly fees.
It's pretty cut and dry. For those seeking a used Ford Escape for sale, there's no better choice than the second generation of the SUV. Additionally, for those seeking a used Ford Escape in Cincinnati, Ohio, there's no better place to make that purchase than from Generic Chevrolet Dealer.
As we mentioned, the third-generation of the Ford Escape hasn't been on the road for very long. As a result, it's unlikely that many owners have decided to move on from their SUV. Therefore, it's not going to be particularly easy to find these vehicles sitting on a dealership's lot.
However, those living in the Cincinnati, Ohio area will have a unique opportunity to purchase one of these used SUVs from Generic Chevrolet Dealer. The dealership currently has 12 applicable vehicles sitting on its lot, meaning you won't have to look particularly hard for a third-generation Ford Escape.
Now that you've determined that you want to pursue a third-generation Ford Escape, head over to Generic Chevrolet Dealer to initiate the car-buying process.
Claim your offer NOW!
Keep In Touch
Ready to Start? Give Us a Call or Drop Us a Line
Our Location
70 Main St. Suite 400, Peterborough, NH 03458
Client Emergency Contact 24/7/365
e-mail: 911@wikimotive.com or call us and dial extension 511